Ask An Expert
Aten Matrix Switch, HDMI, 16 Port - VM51616H
Ex VAT
• Connects any of 16 HDMI sources to any of to 16 HDMI displays
• Seamless Switch™ – features close-to-zero second switching for continuous video streams, real-time switching, and stable signal transmissions*
• Video Wall –allows you to create custom video wall layouts via intuitive web GUI*
• Local HDMI output –allows multiple preview of 16 video sources
The VM51616H is a 16 x 16 HDMI Matrix Switch that offers an easy and affordable way to route any of 16 HDMI video and audio sources to 16 HDMI displays, with a quick view of all port connections via the front panel LCD or local HDMI output for multiple source preview.
The VM51616H features seamless switching that employs an FPGA matrix architecture to ensure continuous video streams, real-time control and stable signal transmissions. With a built-in high-performance scaler, the VM51616H easily converts various input resolutions to optimum output display resolutions, giving viewers the best video and picture quality across all displays. The switch integrates video wall function with an intuitive web GUI that allows you create 32 connection profiles that can be customized into different video wall layouts.

The VM51616H is an ideal solution for applications that require multiple HDMI displays with multiple HDMI sources to be conveniently delivered to multiple locations, such as railway stations, competition venues, casinos, control centres, conference rooms, logistics centres, security management, and more.
Package Contents
1x VM51616H 16 x 16 HDMI Matrix Switch with Scaler
1x Power Cord
1x Rack Mounting Kit
1x User Instructions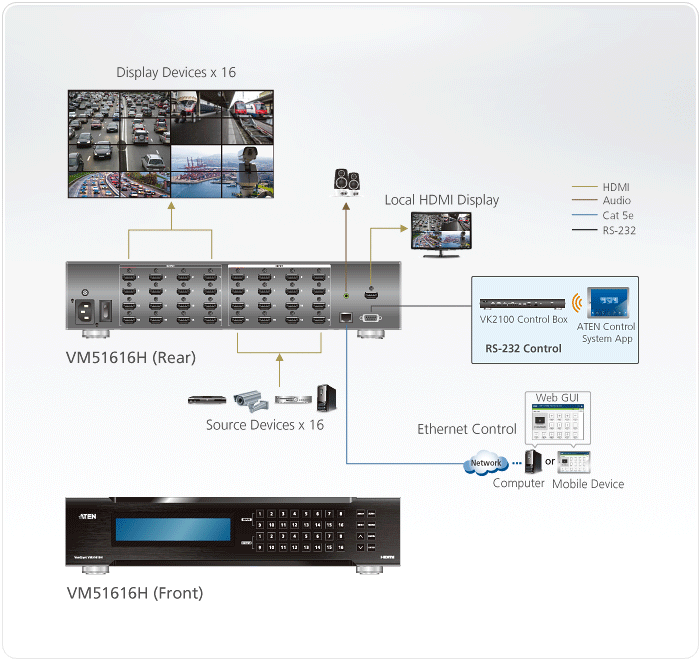 Video Input

Interfaces

16 x HDMI Type A Female (Black)

Impedance

100 Ω

Max. Distance

up to 5m

Video Output

Interfaces

16 x HDMI Type A Female (Black)
(Array Mode): 1 x HDMI Type A Female (Black)

Impedance

100 Ω

Max. Distance

up to 15 m

Video

Max. Data Rate

6.75 Gbps (2.25 Gbps Per Lane)

Max. Pixel Clock

225 MHz

Compliance

HDMI (3D, Deep Colour)
HDCP 1.4 Compatible
Consumer Electronics Control (CEC)

Max. Resolution

Up to 1080p

Audio

Output

1 x Mini Stereo Jack Female (Green)

Control

RS-232

Connector: 1 x DB-9 Female (Black)
Baud rate and protocol:
Baud Rate: 19200, Data Bits: 8, Stop Bits:1, Parity: No, Flow Control: No

Ethernet

1 x RJ-45 Female

EDID Settings

EDID Mode: Default / Port1 / Remix / Customized (EDID Wizard support)

Switches

Power

1 x Rocker Switch

Connectors

Power

1 x 3-Prong AC Socket

Power

Maximum Input Power Rating

100-240 VAC; 50-60 Hz; 1.0A

Power Consumption

AC110V:124.5W:584BTU
AC220V:121.8W:571BTU

Environmental

Operating Temperature

0-40°C

Storage Temperature

-20 - 60°C

Humidity

0 - 80% RH, Non-Condensing

Physical Properties

Housing

Metal

Weight

7.86 kg ( 17.31 lb )

Dimensions (L x W x H)

43.24 x 38.18 x 8.80 cm
(17.02 x 15.03 x 3.46 in.)

Rack Height (U Spaces)

2U

Carton Lot

1 pc

Note

For some of rack mount products, please note that the standard physical dimensions of WxDxH are expressed using a LxWxH format.